Quality Management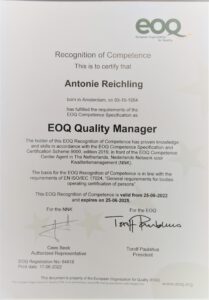 It is entirely clear what the organisation represents and that the clients are in favour of it, but you can be of even better service to those clients—and it's possible to do that against lower costs!
Antonie helps you to organise your processes and organisation effectively and efficiently, which is done in such a way that constant improvement becomes second nature within the organisation.
So, you can live up to what you have promised, whilst simultaneously creating a culture in which all employees work hard to exceed the clients' expectations, as well as to guarantee a future for both themselves and the organisation.
With his EOQ/NNK quality manager certification you can be sure that Antonie can offer just exactly that expertise that you need.